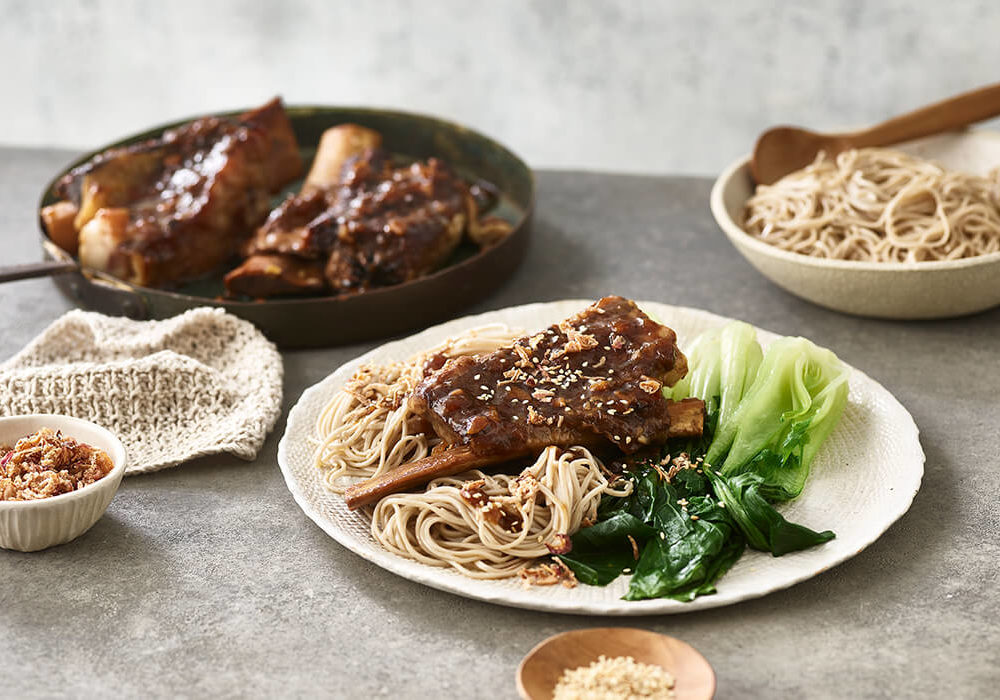 Slow cooked Wanderer beef short ribs with soba noodles & Asian greens
Chef / Butcher
Restaurant, City
Ingredients:
2 Tbsp vegetable oil
4 wanderer beef short ribs
2 onion diced
6 garlic cloves sliced
50g ginger sliced
2 Star anise
1 cinnamon stick
1 birds eye chilli cut in half
4 cups (1 Lt) chicken stock
1 cup shaoxing wine
1/3 cup oyster sauce
1/2 cup light soy sauce
1/2 cup kecap manis sauce
2 Tbsp brown sugar
Serve with:
1 pack soba noodles
1 bunch bok choy (3 heads)
1 tsp sesame oil
Garnish:
2 Tbsp Fried shallots
1 Tbsp Fried garlic
1 tsp sesame seeds
Coriander sprigs
Method:
Pre heat oven to 160ËšC
Add oil to a heavy based pan/casserole dish big enough to fit beef ribs. On your stovetop bring pan to a medium heat.
Season the ribs with salt then add to the pan. Color on all sides until golden brown, about 5-7. Remove from the pan and reserve.
Add onion, garlic, ginger, star anise, cinnamon to the pan. Sauté for about 5 minutes or until soft and aromatic. Add the chilli, chicken stock, Shaoxing wine, oyster sauce, light soy sauce, kecap manis sauce, brown sugar and bring to the boil.
Transfer beef ribs to simmered stock, cover with a lid of tin foil and place in the oven for 5-6 hours or until the meat is soft & tender & almost falls off the bone.
Remove from the oven and allow to sit for 20 minutes.
Carefully remove beef ribs, set aside. Pour sauce into a saucepan & over a medium to low heat gently simmer sauce till it reduces & you achieve a glaze consistency.
Bring a small saucepan of water to a rapid boil. Cook soba noodles in boiling water (no salt or oil needed). Once cooked place in a serving bowl and dress with sesame oil.
Bring another small saucepan of water to the boil and blanch the bok choy for 2 minutes.
Once the sauce is reduced, return the ribs to the sauce to reheat. Carefully transfer the ribs to a deep serving platter with bok choy underneath. Garnish with fried shallots, fried garlic, sesame seeds and coriander.